Donations:
Cash Donations can be
mailed to:
PO Box 492294, Redding, CA 96049

Item Donations can be
dropped off at:
C&L Storage
19732 Collyer Drive, Redding, CA 96003
Other ways to help.
Do you take frequent road trips? Here is how you can help:
Many rescues "pull" animals from shelters that are going to be euthanized due to being in a shelter for a prolonged time or due to overcrowding. There is a vast network of volunteers and rescues that work together to help find safe places for animals. If you know you are going to be taking a road trip, and you will have the space, contact us to see if they have any animals that need to be transported on your route.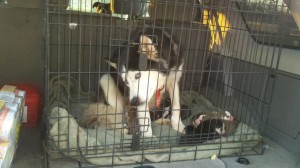 The rescues make the arrangements with you and the involved parties for pick up and drop off. All you do is show up to pick up the animal, provide ID, and drive them to the prearranged drop off point. No, gas money is not usually provided, but if you were already headed that way, you were going to be spending the money anyway so why not save a life as well? Sometimes there are large animals and sometimes it can be just simply a small cat which can take up less space than a small suitcase. Transports are not limited to just around your area either; animals get transported all over the country to different rescues! If you frequently travel between two places you can ask to be put on a contact list with the travel information. When the opportunity arises someone will contact you to see if you are able to help.
Please consider transporting when you take your next trip. You will not only be saving the life of the animal in your car but also making a space in a shelter so another animal can be saved as well.
Thank you!
*Pictured above – Husky Momma and (8) 5 day old babies. A day trip provided the opportunity for this family to go to a rescue 3.5 hours away where they could grow up healthy and safe.